The Harshness of the Spotlight
December 11, 2011
She was the only grade nine to make nationals.

She trained all summer, swam four hours in the morning and four hours in the evening. Between swims, she searched the web for diets to be stronger and tips on how to be faster. At the regional training camp, she was faster than all the boys. Last year, she was faster than all the girls.

She wasn't satisfied with breaking all the school's record times. She broke the city's, then the state's. She won all the athletic awards and was recognized as an Elite Young Athlete of the state. But that wasn't enough. She wanted to go to nationals, as a grade eight, and she wanted to win. She posted pictures, texted about it, talked about it nonstop- she was consumed by it, and we were consumed with her. She was our beacon, our inspiration; she was someone who knew exactly what she wanted and was able to get it, and we couldn't help but be pulled into her orbit.

Of course I was jealous of her. Of course I wanted to be her. Everyone did. Everyone wanted her ease in the pool, as well as her steady grades, and her talent at ballet.

We couldn't be her, but we could watch her. And we did, stopping by the pool just to be entranced for a few minutes. Her legs disappeared in a white spray that exploded like fireworks in her wake. Her arms were slight flashes of tan above the water, darting forward like lizards. She was more than a fish; she was a fluid machine, or maybe just a breath of disturbance in the pool's lapping monotony.

On the bus, everyone made signs for her. There were a few more of us competing, but she was the only one expected to win and everyone knew it. She was competing in ten events. The rest of us were competing in four. Between races, her eyes were fastened on the medals glittering from the wall behind the pool. I watched her study the medals, the side of her mouth hooked in a half smile. I wondered what it would be like to be her, to know that I would win them. To know that I had something amazing in my future.

She won all her events.

Later, her neck bent forward with the weight of ten medals and arms clutching a trophy, she smiled with all her teeth. Another record broken. Ten medals. That was what she wanted.

But no one saw her smile, not really. Our hands patted her on the back, and then we put the signs under our seats. We sat in the back and chatted and laughed about stupid things, celebrity crushes and which couples would break up at the end of the year. She sat in the front seat so she could've seen all that lay before her, had her eyes not been buried in her hands.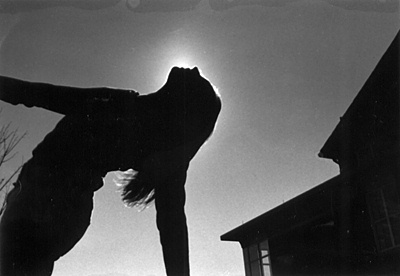 © Alexandra B., Marblehead, MA