History
September 8, 2013
One simple man,
One simple knife.
One evil betrayer
Who took that life.
His country got mad
And started a war,
So the killer's country
Called on people in hoards.
Soon allies joined
And soldiers were sent.
"Goodbye" to their families,
And off they went.
Most never to see
Their loved ones again,
Most to lose their lives
Because of one man's sin.
After many lives were lost,
The leaders decided to stop.
Battles really were not fun
Or coming up with evil plots.

But years later, once again -
A simple man, a simple trend
That one race dominates over all;
This belief was the Germans' downfall.
They never learned,
They never changed.
What history does
It will repeat again.
One powerful man
Many powerful knives,
One evil dictator
Who took many lives.
When the world resisted
Its soldiers fought on,
Fighting with hope
To right that great wrong.
In the end, good prevailed
And our side won -
But not without loss
And destruction of tons.

We as a people
Must learn from the past -
Not to take life lightly,
Not to kill so fast.
We as a country
Must understand
That our own future
Lies in our hands.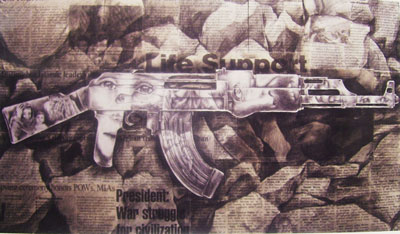 © Claire V., Lubbock, TX