Don't Need Another
July 23, 2013
Dear God,
There he goes.
All grown up,
With a big ole nose.
Just like me,
And yet a boy.
I remember when,
He was my "joy".
That little kid,
Who had a heart of gold,
Is now sixteen;
I feel so old.
His hands and feet,
They're way too big.
He shaves his head,
And he's an earwig.
I remember when,
I dressed him up.
He's made me proud,
I've made him tough.
I guess that's what
We sisters do,
We tear you down,
And you come out new.
You come out smart;
You come out strong.
You hear me yell.
You say "so long".
I'll be honest,
He's a brat.
He's annoying,
Just like his cat.
But in the end,
I'll always see,
The man that brat
Turned out to be.
I've watched him change;
I've seen him grow.
But no matter how big,
He still knows:
I'm the sister,
He's the brother,
And if you have no one,
You still have each other.
Even though he's annoying,
And he's just a "stupid boy",
That's my brother, whom I love,
A bouncing bundle of joy.
And inspiration,
Especially to me,
For he shows
Who I want to be.
I know I don't say it,
As much as I could,
Especially after we fight,
And I know I should.
My brother is my idol,
He's my shining star.
Yeah, he's a total brat,
And I'd like to hit him with a car,
But at the end of the day
When no one is around,
I might just give him a hug,
And we won't make a sound.
The mutual agreement
That we've had since we first met
The one of only love,
And I haven't killed you, yet,
Is the reason why I stay here
And love my little brother.
It's because I've only got one,
And I don't need another.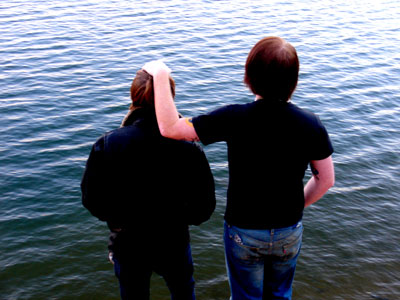 © Michelle B., Blairsville, GA