Sentimentals
MAG
December 8, 2012
there is an old photo of me in those
'96 days where i'm sleeping
white flower in my hair
a toy stroller
and a dank, empty apartment with
solid, musky carpet

and my sister is next to me and she's
sleeping with me and her mouth is open
and my ma says
she was just pretending to sleep.

you can feel the twitch of my sister's smile
and my mother holding her breath
so her laughs wouldn't shake the camera.

there is this picture on the refrigerator
with a frame that my sister made
in elementary school
cheery styrofoam and christmas candy-cane borders
and i'm wearing overalls with a yellow shirt underneath and
flowers that my ma picked out
and my sister is wearing her favorite sweater back in
fifth grade, periwinkle blue
and the sequins wink at you,
and we're both smiling.

there is another picture of us three
my sister already graduated and I am
a freshman in high
school, acne sprouting up like angry and
resistant weeds.

There is an air of defiance in our hug,
as if we hated each other, or as if
we would not stop loving each other,
no matter what.

My mother is smiling, but everything
about her is
faded and worn
and she hasn't washed off her makeup
in two days
and hasn't bought new clothes in two years,
but she got a haircut yesterday morning

we are smiling, but
notice how our father isn't home, and how
we weren't the fair little girls with shining skin
we once were.

we are eroding
and we are worn
like the picture itself.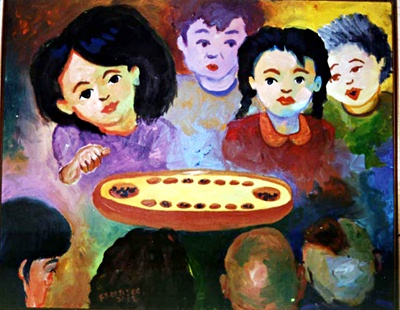 © Fransisca A., Surabaya, Indonesia