Tonight
August 24, 2011
The cool evening breeze
graces my skin..
I inhale the sweet scent of night,
a nice comforting smell
It fills me, and I don't want
to go back inside
I feel secure, surrounded by
nature and its beauty
A few bats fly overhead,
and I smile because this is their
time to shine; their time of day
It is mine as well, I'm free
and completely at ease
I let myself crumble to the ground,
lay in cold prickly grass
It tickles my bare skin,
and I imagine little insects
running away frantically because
of the intruder now in their midst.
I glance to the stunning
azure sky, and it stares back at me
The stars are just barely
showing themselves,
just beginning to come out
for a peek
I lay my arms and legs out,
reminding myself of a snow angel
in mid-February
I begin to imagine our lawn
covered with luscious milk-white
snow,
snowball fights and snowmen;
I close my eyes
and picture you here with me.
I can feel your hand forming
itself around mine
Your breath hot on my ear
as you whisper to me that
you love me, and could stay here
for all of time
I envision you being with me
forever and ever, out hearts as
one.
The cool evening breeze
graces my skin..
I'm now in a whole new world,
where nights as beautiful as
this come at the end of
every day
You hold me close
every night, murmuring sweet things to me.
Your beauty consumes me,
and it is of which
nature cannot compare tonight...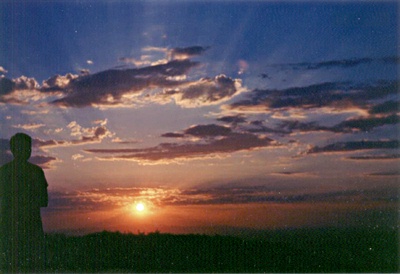 © Jovee B., Dededo, Guam