Im With The Band
December 23, 2011
Summary:
"Skylar Stone, a cheeky red-haired who's in a band trying to make it big comes across a Big Broad-shouldered man who claims to make her and her band "The Monster In Me" famous. follow Skylar and her band in a tale of struggles, music and never giving in. "
we all stood side stage, me taking big breathes trying not to hyper-ventilate.
Tom rubbed my shoulders trying to calm me down.
the opening band was just about to end their set.
my heart was racing faster than a formular one race car.
Brad shook my shoulders.
"pull your self together woman!!" he yelled, a bit of spit hitting my face.
"i asked for the news, not the weather you lug of fish." i snapped at him.
i had a short fuse today not because of brad but because our careers relied on this.
if we could ace this show and develop a big fan base then the company would sign us, so as i said before short fuse.
"sheesh, calm your panties, he's only trying to help." Zac said.
"ok guys, on stage now, and dont forget to kill it out there, you guys worked hard for this, i worked hard for this and i will not let you guys blow it up. just concerntrate and have fun." our manager smiled widely and pulled us into a huge group hug.
i breathed harder and soon evened out my breathe
i clutched the neon rimmed mic and walked out onto the wide stage.
the fans roared and cheered as we walked center-stage.
tom took his seat behind the big red and black drums taking off his shirt receiving loud whoops of cheer from the girls who sat front row.
zac stood with his red and black guitar and winked slighlty at the girls who in return blushed like newly ripe tomatoes.
brad assumed his position on the left of the stage holding his black and white bass guitar.
our lead guitarist Elijah pranced on stage, acting all high and mighty with no worry on the world shirtless.
girls screamed as he bent over and grabbed his black and orange rickenbacker 330 guitar.
as he bent over, tom yelled out into the mic-
"Nice knickers buddy, where'd you get them the kids section at target."
the arena errupted into laughter.
i smirked at him and grabbed the mic when everyone was ready.
"YA'LL READY TO ROCK!!!, hello Cleveland, we are The Monster In Me and we hope you guys have a good time tonight. to start you guys off, we are gonna play you guys a few covers then we'll play a few originals. That alright!!!!" i yelled.
the crowd errupted into loud screams as elijah struck the first few chords from the song "just" by startisan. the drums came in and the guys started playing the next few chords
"heard the calling
got the hell out
now im tired of treading water..." i sang.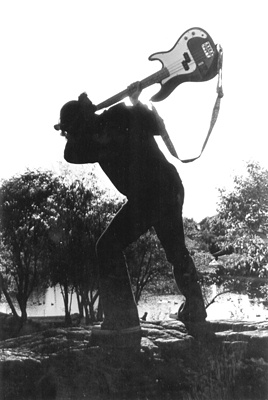 Cecilia S.
Im With The Band