The Damn Table
March 2, 2018
All I could think of was the split second when I realized what was going to happen. It was like any other day of the week; my 17 year old brother and I were sitting on our middle floor couch at our old house in Lakewood. He was watching tv and was on his phone at the same time. Like any other younger sibling, my only goal was to annoy the crap out of my older sibling.
"Hey, whatcha doing?" I was saying repeatedly, as I was poking him.
My brother didn't mind at all what I was doing. So I tried again with a different method; I went and stood right in front of his precious television. When he still didn't mind, I thought to myself, that was a bust. When all that failed I started jumping on the couch .
My mother said in a strict tone, "Stop jumping on the couch."
And of course I didn't listen. I continued jumping, and my brother didn't care.
My mother came back down and yelled, "Austin, can you please get your brother off the couch, or else."
"Ok," he said annoyed because he "loves" those motherly threats, "get off the couch Jonah."
I said in a "playful voice", "NO!"
So when I said that, he hit my legs with the force of a rhino charging at something. My legs started to buckle under pressure and in a flash, I slipped off the couch. It was that very moment that I knew what was going to happen. It happened so fast, but I heard the smack of my own head when it hit the quartz coffee table. I got up, and all I could see was my blood everywhere. My eyes were starting to get blurred by my own tears.
"What happened," my mother said, acting blindly, as she didn't see what happened.
So of course like every older sibling, they lie so they don't get in trouble." He slipped, I told him to stop, but he didn't," he said with a stutter
On the way to the hospital it was really quite. "Austin, what happened?" my mother asked on the car ride to the hospital, "and answer honestly."
"He kept on jumping on the couch and I told him to stop several times," my brother said. " He slipped before I could do anything."
At the hospital all I could remember was that I was in the emergency room waiting for what seemed like an eternity. My dad was there inside the operating room and literally the only thing I could remember was the doctor asking me the most random questions.
"Okay you are going to feel a little pressure," the doctor said, "now what is your favorite color?"
Now in present day I realized those questions were probably to make sure I wasn't concussed.
I answered, "Purp…"
And click- there was the pressure and the staple went in. This process went on for about a half hour because my dad is a talker and likes to talk to everyone he meets. When we got home I only remembered the single second when I slipped. My mother told me to relax in our basement for the rest of the week. Now to this day I remember everything, and my accident would have never happened if I just listened to my mother.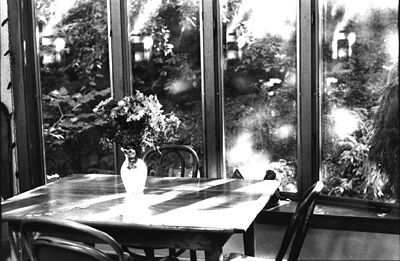 © Bree C., Marblehead, MA