The Promise Under the Big Oak Tree
November 10, 2008
"Promise me you'll come back and we'll meet again" said the boy. "Will you promise to wait for me?" I said. "Yes", said the boy with the beautiful smile. One that day the boy and I made a promise that we would meet again no matter what and sit under the big oak tree in the park and talk till' the sun set. That was 10 years ago and now I'm 15, a sophomore in high school, but I still haven't forgotten that boy I meet everyday day under the big oak tree with the beautiful smile.

Now I am going to fulfill that promise because I am transferring to Casper High in Casper, Wyoming. I used to live in Casper when I was little but then my father got a job in Miami, Florida and we moved. The boy and I took it harder than anyone else, when we heard about my family moving. That's why I promised to come back and he promised to wait for me. I cried the whole day when we moved. But after seven hours of begging, I finally got my mom to let me go to Wyoming alone with the exception of calling every day of course. Add another two days packing and unpacking things and were done.

I was extremely excited for school today. I never thought I would say that because I always though school was a waste of time and space in my life but today I might see him. I don't his name and he probably doesn't look the same but there's one thing that separates him from the rest, that beautiful smile. The one I would die for. I know what you're thinking, I'm crazy but he was perfect. Smart, gorgeous, hard working, fun to be with, and the biggest problem of all is every time I even think about when I was with him my heart goes crazy, I start to blush and I even giggle a little. I have what my mother calls a big bit from the love bug. I haven't changed so I hope I'm hoping he hasn't either.

Casper High is a very big school and everything was so different but still the same. Different clothes and building, same kind of people. You would think the transfer student was nervous like crazy, not me. I was not nervous at all, I wasn't coming to school for any of them just for him. I observed everything in the classroom very carefully, looking at room and everyone in it, when I suddenly felt something hit the back of my neck. I touched my back and it was a spit- ball! "Ew, that's gross!" All I hear in the background was a boy with black hair, pulled back showing a gorgeous face that was laughing at me. "Sorry I must have missed", all the class started laughing at me, and I was so embarrassed! I got up and slapped him. "Ouch that hurt!" the jerk said. "Good I didn't miss.", I said with a satisfied look on my face. I walked away knowing he was luckily, I could have done worse.

After class I was still upset about that jerk so I decided to go where I always go to relax in my favorite place in the world, the big oak tree. I was sitting down so relax and soothed when I heard the sound of crying. When I turned around it was the jerk and a little girl who was crying. Making little girls cry, some how I didn't feel surprised. I was about to walk up to him to tell him to stop picking on little girl and to pick and someone his own size, when I heard "Why are you crying little girl?", "I don't know where my mommy is?" cried the little girl. "It's okay I will stay and look for mommy with you okay?", "Okay, thanks mister", smiled the little girl. "Let's go then" and they walked away. That was weird I thought. Why was the jerk not acting like a jerk? And why was here, at the park and what for? These three things I thought a lot about as I walked home.

In the morning I was excited as usual for school. Thinking maybe he didn't go school yesterday because he was absent and is coming today. I raced to school only to be disappointed again, he must absent again. This was the only high school Wyoming and the worst part of all was he wasn't there and the jerk was. Sitting were he always sits, on the left in the corner at the end of the row. But I did learn something today; my enemy's name is Jason Denver. That name, I knew it somewhere but oh well I am very forgetful. If I wasn't I won't be in this mess.
After school again I decided to sit in my special place under the tree, only to find Jason sitting there. "Move, that's my spot!" I said so upset thinking he use there, is replaced with that jerk Jason. He looked up at me and then said, "You don't own this tree. Secondly I know you're mad at me about the spit-ball but honestly it was a mistake, I didn't mean to. And finally I come here every single day waiting for a friend under this tree. She moved away but I come here every single day to..." he stops and then looked away. "To fulfill the promise right?" He looked at me with shock in his eyes. "Layla?" he asked. "Yea", I said with a smile on my face. He grabbed me and we hugged each other. "Please never leave me.", "I would dream of it", I said. He smiled that beautiful gorgeous smile. At that moment I knew for sure that I finally found him, my Jason!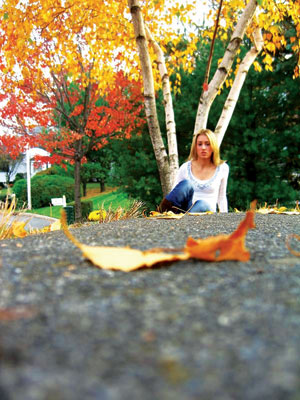 © Anonymous