I Love....
July 25, 2013
I love the warmth your slender fingers radiate as they tightly entwine with mine.

I love how when you laugh, it sounds like the melodic harmonies of angel's music ringing out, interrupted by the cute breathy snorts you so strongly despise.

I love how deeply you blush when I pull you into me and kiss your soft cheek in front of your parents.

I love how when you feel flustered, you frantically flutter your delicate hands around your scrunched face, as if waving away those unwanted thoughts.

I love the way your dirty blonde locks cascade down your back in a thick, flowing stream.

I love that when the sun kisses your tender skin, it'll only tan a little, leaving you lightly touched, yet intensely beautiful.

I love the way your vibrant gray eyes sparkle in the same fashion as the sun hitting stormy waves, sending shimmers of light bouncing from the furious swirling sea, unexplainably breathtaking.

I love that when you smile, you uncover all of your teeth, as though you're trying to say, "This is who I am, and I am proud!"

I love the way you genuinely giggle at the corny jokes I construct for your ears only.

I love that when we have a scary movie night, you'll lightly gasp at the scenes that spook you and press your gentle face into my chest, spilling the popcorn over our slippered feet.

I love when you'll call me at midnight to tell me about your nightmares, trusting that you'll find comfort in the few words I have to offer.

I love how when a song you're familiar with plays on the radio, you'll sing out of octave, out of tune, in this awful scratchy voice, just for the heck of it.

I love how when I give you rides in my truck, you'll subconsciously kick your petite feet up on my dashboard, showing that you're completely at ease when you're with me.

I love the way you snuggle into me when you get unwelcome chills, sighing contently once I wrap my arms around your frail body.

I love how when you hug me, you hold me close, squeezing me to the point of not being able to breathe, as though it's our last moment together.

I love how you walk with a grace to which you are blind, your tiny figure slightly swaying, your little feet making their way towards me.

I love how you slip into a deep sleep in my lap under the old weeping willow, allowing me to caress your lovely face, fully at peace in your slumber.

I love how when you look into my eyes, it feels as though you're looking into my soul.



I love you.


For all your imperfections,





For all your wonderful flaws,
For everything you do right,
And everything you do wrong,
For all those little quirks that send my head spinning,
And all those little comments that keep my face grinning,
And though I fear I cannot always have you,

You will always have me,


Simply because,


I love you.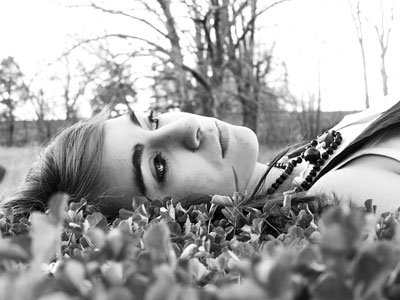 © Jasmine R., Bourbon, MI