Whisper
December 18, 2008
Who am I to distinguish emotional mentality and sense in self? That I truly know of love's penetration, the genuine, pure emotion that signifies the pulse of your veins, the ecstasy of heart?

What did I have to represent to myself, to you, all those years that have blown by? For the beat in your eyes sparks like flaming blood, musing as they bask in the softening of my own.

To imagine that this feeling within me, as intense and pure as my bones, is a false recognition, an over-proportioned conclusion -- to imagine my quick interpretation of the newly acknowledged high, you could possibly think a joke?

Could you be unaware of the connection that I feel? For being many forms of lying, you cannot lie to the heart -- I can not lie and say that your touch doesn't differ from any other; I can not lie and say that your heart is dark and soulless; I can not lie and say your soul does not embrace -- for my heart divides the truth from the lies, and to simply say your eyes are not like fire, that your voice does not lick up my veins that tremble with quickened blood -- would mask the truth in my words, but glow in my dishonest eyes.

For believe me when I say, my heart has a whisper: a caressing, breathy destination that it murmurs in my mind. It envelopes itself in the distinction of that originality, that will combine with one that holds it close, acknowledges the fears I feel and I happiness I possess, just in the light your eyes reflect.

Who could destine that your gentle fingers would fit so conjoining in mine, that your skin would be as lavish as the sky's warm breath -- how could my eyes look past your face till now? To think that my eyes once whispered to your heart, enabling your lips to speak the words that have withheld since within me; to think that I didn't concede your existence, as you did mine, as such a senseless mistake, to ignore the only person that I ever could want of others that will never matter...
When with you, all earth would expand, surpassing its original heights; heaven would smile upon us as we join hand in hand and face the depths of the earth in one another's embrace. Our eyes would both speak, in a whisper so adoring and familiar in its beat, waves of vibration passing through the touch of our fingertips.
In the dark and good times, you'd be there to hold me close and keep me there forever. We'd breathe the same air; kiss only each other's lips.
The night would become alive as day, and the sun would probe with intensity like the fluid in your eyes, like the throb of blood, whispering softly in my mind.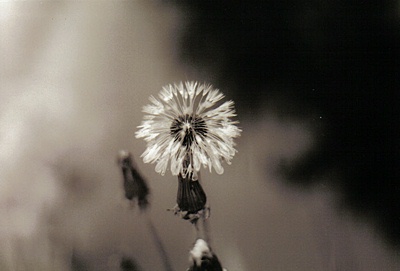 © Sarah S., Poland Spring, ME