Runaway
June 22, 2010
I look out the window, the sun a fried egg yolk rising above the mountains. I squint in the bright light, silently sighing.
I honestly don't belong here. I don't fit in with a bunch of runaways squished together in the back of an old square-shaped mini van. It spells like pot and alchohol in here, plus the carpet is a very ugly shade of green. I finger my backpack, focusing on a piece of string emerging from the front. To get caught staring at someone is too risky for me. These people are strangers, therefore, I don't know what they're capable of.
"Hey, you," A rough voice calls out to me. I glance up to see a girl scrutinizing me. I look back down, the blood flushing my face in fear."I said hey!" She says a little more loudly. I cautiously meet eye contact with the girl, quickly taking in her appearance. She has dirt blonde hair in heaps of curls pulled back in a sloppy bun. Above her lip is a Marlyn Monroe piercing, glinting in the sunlight. More earings are pinched in her ears and I notice a tattoo scrawled across the top of her right hand, along with a fried cigaratte."You don't look so badass to me, cupcake." She states, exhaling a ring of smoke in the van. I fight the urge to scrunch up my nose. A brunette next to me snickers."My name is Rae. What's yours? Unless you want me to call you cupcake,cupcake." Rae taunts, smiling a grin of perfect white teeth. I keep eye contact with her, shrugging.
"Kaytee." I mumble. I let my eyes fall to the disgusting carpet, somewhat atiminated by Rae. She seems to notice.
"Listin kid, I'm not going to eat you. Do ya know who's driving this thing? I'm kinda baked right now." Rae asks, souding a bit softer. I look back at her red-rimmed glazed green eyes, shaking my head no. She heaves a sigh, frustrated. "You don't seem to talk much, but hey, I can respect that....Kaytee."Rae says my name, unsure of how it feels coming out of her mouth."What do ya say, Ally? Shoule we add cupcake to our little group of ours?" The brunette next to me gives me a face. Unexpectedly, she punches me in the arm. I wince, the fear beginning to engulf me.
"Sure," Ally laughs. I roll my eyes. It doesn't change anything. I still don't belong here.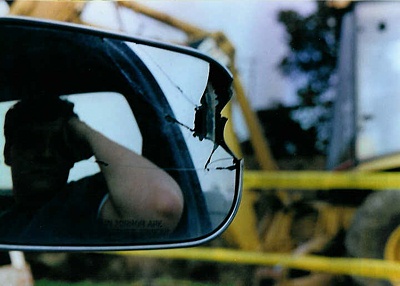 © Matt M., Ponca City, OK