The Dopeman's Wife by Jaquavis Coleman
January 26, 2018
The Dopeman's wife has you on the edge of your seat throughout the entire book. Nautica, an utterly unpredictable character, wants to move on from her old life of scamming and settle down with Tical her new drug lord fiancee who thinks she is the most innocent woman in the world. But the past catches up to her and she can't hide it in the dark forever.

A three part series written by JaQuavis Coleman, a New York Times best-selling author, who was born and raised in Flint, Michigan. Being able to incorporate his view of street life into his books has served him as an advantage. It makes it sound like he is living through the characters lives as he expresses the ways the street runs. This book really grasps your attention from the first sight.

Nautica lives on the East-side as a fast food worker by day and a stripper by night. She grew up in the hood and knows how the street runs. Nautica meets the "hood superstar" Zion and falls for him but his true colors quickly show, she decides to cross the wrong wanna-be thug. Blood, gunshots, and tears shed. Zions wing man, Loon wants revenge for his friend but Nautica runs north to Baltimore and forgets her old life. She meets a man who treats her like a queen and nothing less, but she refuses to tell him about her past thinking she'll drive him away and shatter his perfect vision of her. Nautica's skeletons catch up to her causing a bloodthirsty dispute.
The main character, Nautica, is the epitome of a true hood chick. She does things that are unimaginable throughout the book to get to her dream. Nautica grew up fast so she knows how it is to be completely independent. She is a confident female and doesn't play when it comes to getting her money. But her personality changes when she meets the guy of her dreams, she doesn't have to front and act tough because he brings out a soft side to her. Nautica isn't stuck up at all she stays humble and true to herself no matter what.

The Dopeman's Wife is an incredible book for teens and young adults who are intrigued in urban, drug game books. I personally loved this book because it leaves you shocked at what happens during the scenes and it's believable.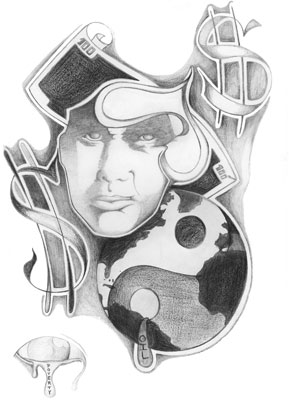 © Kevin M., Miami, FL