A Simple Servant
MAG
May 1, 2015
A simple servant in my fist
A royal goddess of the words I think,
Equally adept at words' removal
and seeking my mind's approval.
Erases all the struggles and scribbles I make,
Graceful sweeps, twirling gently like a snowflake.
Gradual movements in a frosty air.
Skating in a charming way, but leaving behind a slight impression.
Pressing the end firmly on plain white paper.
Demonstrating its boldness by a confident solid line.
Elaborating patterns that are stunning to behold.
Vigorous swirls and curves that are barely controlled.
Slowly erasing the last piece of his tender soul.
A battle of ferocious emotions, demonstrating a desperate bleak hole.
Handicapped with half its function
And thrown away without compunction.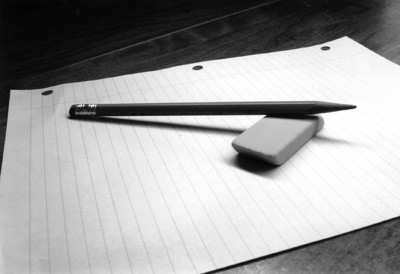 © Michael H., Mildford, CT