Roses 🌹
October 16, 2018
Deep in a field of Roses.
looks as if they have their own poses
As the roses continue to spread
I see some that are Dead
Cut down to the ground.
then I thought why be lost when really you are found?
I cut my hair when I was young
it used to be pretty long
but others couldn't accept my race.
How they moved at fast pace.
They didn't accept me for who I was
just because
I'm different One of a kind
But I couldn't see my greatness, I was blind
As I think about my past in this rose field deep
i slowly drift off to sleep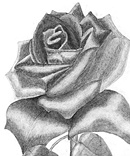 © Nghi L., Phoenix, AZ