Autumn Rainstorm
October 19, 2015
The sky is a perpetual, drained grey,
The barren trees blending in perfectly with it.
The air is pouring with raindrops of colour,
Carpeting the ground with red royalty.
Meanwhile, the wind howls savagely
And sends torrents of pine needles into you,
Perfectly in time with the swirling darkness above.
The chill bites you and locks your joints;
Your bones feel brittle and fragile in the cold.
Forests are laid to waste and emptiness
As the crushing downpour rushes through,
And everything shivers in the early nightfall.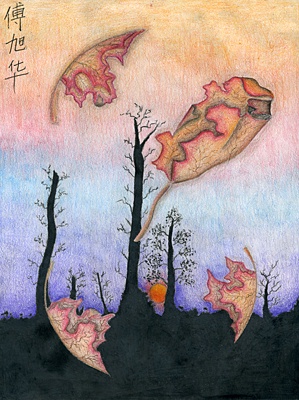 © Becky F., Sacramento, CA