Welcome To...I-Don't-Even-Know
October 13, 2015
Through a burst of reckless inspiration
Or desire; I can't tell which,
The words flow in a dangerous current
From shallow to deep,
And into the I-don't-even-know ocean
That is my mind.
Treacherous, wild, untamed,
My mind is like the unknown wilderness,
Hiding everything and nothing
Of what you think is there.
The past, the future, and the present
Combine and separate;
Fears, incompetency, and emancipation
Live under the same roof
As either friends of enemies; you decide.
Paths appear, leading you on,
Only to disappear right when you trust them.
The maze walls change again:
Being the perfect picture of chaos they are,
And it is enjoyed in saturated insanity.
"Fight me" I say, and I will,
But I always do anyways
So what kind of difference does that make?
Warped arrows; shots fired,
Buried deep within my chest.
Look again; look closely and you'll see them,
Ever present and informing the world
Of the pain they cause.
You asked me to explain my mind;
That was your first mistake.
But I don't really care, right?
I'll go now, don't worry.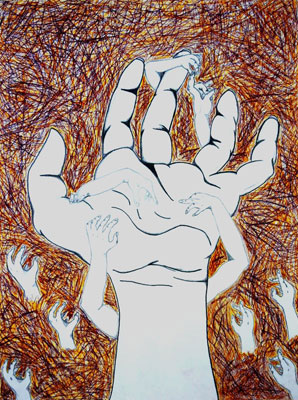 © Ariana R., New Orleans, LA