Trapped Behind Masks
August 18, 2015
You've got a face of stone,
And an elastic heart.
Your will is like iron,
And your focus is set.
But you live behind
A myriad of masks.
They are strong,
And convincing--
I'll give you that.
But beneath the maze of masks,
Tears flow freely,
And your heart is all stretched out.
Your strength is failing,
And your resolve crumbles.
It's hard to keep from slipping
When you're always giving.
You've tried to cut
And shred those masks,
But all you got
Was a masterpiece of scars.
Scars through which I can sometimes see
Your trembling hands
And bleeding heart.
You can't cut these masks aways.
You have to let them fall.
This isn't a battle you can win
By sheer force of will,
Or strength.
In order to win,
You have to lose.
You have to let go
And bare your scars.
Don't you know it's hard to watch
My best friend die behind bars.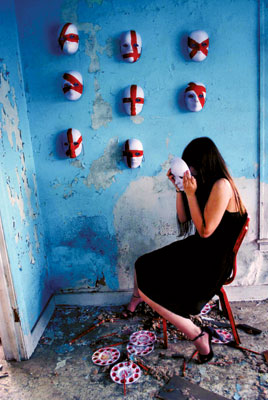 © Narongsukchai T., Sachse, TX