Strange Friend
August 13, 2015
A 4-year-old girl in a torn black gown.
She nestles around my neck. Like a python. Grazing it hard.
I am suffocating to death. Acute teeth. Wolf's fangs pierce my skin. 
Her name is Marta. And we are friends.
Rotten, crooked nails touch my blood vessel. Suddenly, she disappeared.
I wake up. It's 5 am. A vivid golden ray shines through the blinds.
Slowly twisting my head to the left. She is resting next to me.
Her eyes are shut. Virgin blond hair. A smell of a tomb and a raw land.
Her beauty devours my innards. I collapse in my mind.

She is my actions' reflection. My portrait of death displayed on a metal shield.
A sculpture of committed mistakes pursues my soul.
Her mysterious and mature eyes bewitch me. I am psychologically paralyzed.
The hand of control throws my corpus.
Suddenly, I stand on a sharp edge of a silver sword.
99th floor. Birds are flying beneath my cold feet.
She says, "Do what is right."
Last time. Sky starts to fall. I jump.
Grabbing a breath and yelling "Help."
A technical hummingbird with a soul discovers me.
My body hits its enormous soft feathers. I am safe for now.
Remember.
She is my spirit and I am her friend.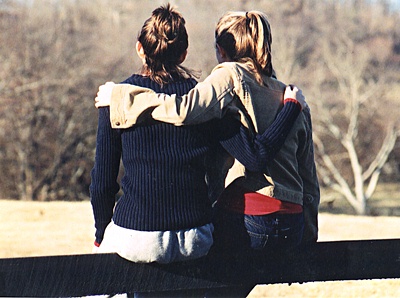 © Jaime M., Wichita Falls, TX