My Father
April 17, 2015
Each year brings a new start, a new birthday, and new memories
Each day we grow wiser, each second we grow older
As every second counts and I am blossoming,
My father is also growing, you never realize it
Until one day, you see the white peppered into his hair
You see the deep lines on his dark face
And I remember all those years.
I recall when I was 3 and my father took on the role as my mom
As my actual mother took late night college classes
I remember how he would cook my favorite meal
And how he would sit patiently as I do my homework
Later, I am 6. Just starting the first grade.
I remember how he would walk me to school
I remember how he told me that if I hadn't recited the multiplication tables by Christmas, I would get no gifts.
He became my personal tutor.
Each night I was instructed to do extra work along with my regular schoolwork.
I hated it at the time.
After a few more years I am 12, starting the seventh grade.
As the work gets harder and the pressure increases.
I can thank my father; thank him for telling me to do all those extra problems.
He is stricter, and everyday he would remind me.
He would repeat over and over
And he would remind me about college.
About my future.
Now I am almost 18.
My formal schooling is almost over
Where have all the years gone?
Even after 15 years of my memory.
My father was still there.
Guiding me through every step.
He still spends the time to sit down and help me with my schoolwork.
His age is slowing showing.
When he comes home everyday, his tired expression silently tells us to not mess with him.
He is no longer the lively man he used to be.
And now, the years seems like days to me.
It feels like just yesterday my father smiled at me lovingly as I played with my Barbies.
To this day there are things I'll never know about him and there are things he'll never know about me.
And no matter how mad I get him.
I know he'll still be here. I know he still loves.
And the older he grows.
I know even if he has one hand on a cane
He will always have one hand on my shoulder.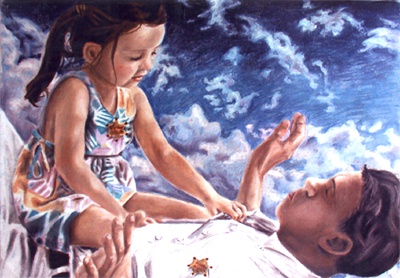 © Meg S., Andover, MA