Buffer
February 12, 2015
You and I see a world before us,
You with Your eyes, pure and unobscured
me, with my eyes, hidden behind these clouded lenses.
We may see the same world,
but, is it really the same?
You cry, and laugh, and show emotion at all of the right moments.
I only show a false emotion,
a mimicry of true emotion hidden from my eyes and heart.
It is said that the eyes are the window to the soul, so what am I?
my buffer in this world, my clouded lenses.
You may feel the pain, joy, and exuberance of life, but I,
I only have a taste, a slim and fleeting shadow of what true emotion is.
I may not experience the full pain of what happens,
but neither do I feel the full love and happiness of life.
my buffer is a curse
I cannot know what you truly love and loathe,
Never will you see who I really am.
I hide behind my buffer,
Waiting for someone to help.
Waiting for someone to approach me and remove this obstruction,
Waiting for the day when You walk up to me and take my clouded lenses away.
The day when I begin My life.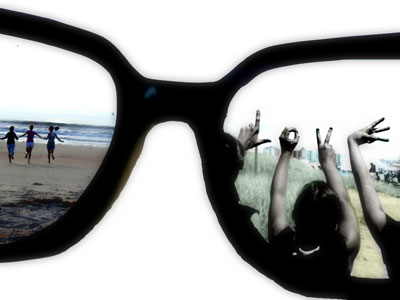 © Christina G., Bedford, NH