creative expression
February 11, 2015
Generation or creative expression
A mind is a terrible thing to waste according to the wiseman who first said it, but what about a love?
Because now I feel it in the ways that I had forgotten since my last heartbreak whose influence is still stuck on my heart. But you make me forget.
Image dispersed, vision blurred, glasses broken. But I can still see.
You
The only image that makes sense to my distorted senses. The voice to my deaf ears, the cinnamon to my scentless nose, The warm lips of flavor of whom I miss whenever they're away from mine, and the sight...
A lover worthy of my heart, the heart of a god, the loving nature of a goddess, and the rock-solid trust of a soldier at war.
the goal of my movement is to love you. The real you, not the marrionette you throw in my face as a facade to the true you. Open your heart and let me feed on the energy you burn in your ways. For I am a wispering willow and you, my love, the conversation.
I am draconic and you the flame I breath, the heat I create, the fire I make. A recreation of a desperate scramble in which I would gladly partake with you, but be straight forward with me. The bush is beat, not beaten, and I am open to truths.
A shy soul looking for the love of which I want to supply. Redefining love with what we make and showing the sun that its heat is nothing to that of which we let out when we burn our flames.
Flirtatious, a spirit of whom I was and still am. I have a heart though, and that heart is a fragile being of which I am growing, and I know that you can relate. A deeper bond between man and nature that can't be displayed by those around us, only we can produce the image.
A new generation, the thing that you are destined to bring in at the hands of god himself as he blesses you and showers you with the beginnings of a new world order. No destruction, no war, no new inspirations of battle nor struggle, just
Clear
clearer than the very water you drink, clearer than the air you breathe and the sounds that breech your eardrum. Clearer than the mind of the buddhist who has achieved enlightenment, a wide space of idea and philosophies in my mind of which the only answer is Y-O-U.
You
the generational question of which I still cannot answer. The sad song that plays in my mind during the lonely times, the warm bed to my tired soul. It's you, my answer to a major problem in life, the last piece of the puzzle and now I may once again be complete.
My generation, your generation, our generation. The last foundation of a crumbling building, we, the platform of which it stands on and all others following in our footsteps in order to keep themselves afloat in a world steady sinking, sinking, sinking in it's blind shuffle for power. Let us support its heavy weight for all others and hold hands to keep ourselves from going under.
Love, found, once lost, lost once more, and found once more.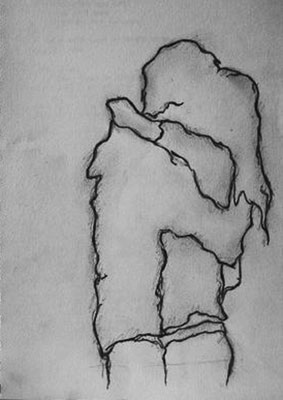 © Nicole B., Newcastle, WA