Under One Umbrella
November 26, 2014
pavement slick with rain
glistening with the thick colors
that drape the trees like
old coats,
lamp posts casting rays of muddled light
on the puddle your black Converse shoes
make, traces of old quotes
written in crayon still lingering
on the laces, slightly fading,
now bleeding into the rain.
Under one umbrella,
you weave your arm into my
shoulder muscles, and our voices
fill the rain drops hanging from
the zipper of my purple jacket,
your jeans now crumpled from the
many rainy Sunday walks in the park
across from our house.
water clings to your eyelashes and I
smile as your laugh splits
the afternoon in two, shattered remnants
dappling the shadows around us with
the colors of your eyes.
the sky  is an abyss of grey,
thinly veiled with pregnant clouds that
roll and mesh together with no regard for
the trees below them,
but everywhere,
the only thing I can see,
is the kaleidoscope of our rainbow umbrella.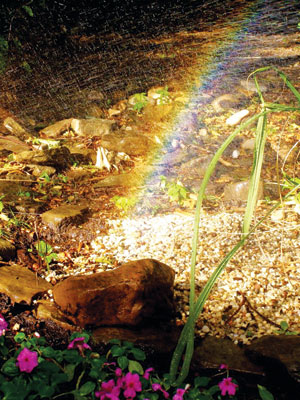 © Kristine B., Setauket, NY