An Argument with the Sea
August 30, 2014
Quiver in your voice like a baby,
Punched up face, precipitant intake of-
Breath
A cocoon lodged in the small of your throat,
Feathery wings teasing,
Cough and you'll kill it-
It's premature.
Submerged in water that doesn't break,
Eardrums fill with ocean obscurity-
The drone and throb of pressure,
That impounds you to silence-
You cannot make out their syllables,
Under gurgles and sloshes, murky murmur,
Both pulling and inhibiting,
In incomparable mass.
Prickly light,
Razes the rolling edge, the horizon.
Pink and green you pull from,
Lurid lather snapping at your toes,
Cocoon in your throat drowned-
Stillborn.
When the brine heaves,
It's about timing,
And confidence-
About a lighthouse, a point of stability,
Lodged in the billow amidst the
Swell and swallow.
Climb and observe from the heights.
As the water breaks the shore,
You must break yours,
Swaddle peeled and-
Speak.
Cocoons, wispy and ephemeral,
Leave strands of silk lost,
In the tumult.
Even gossamer voiced, moth-filled mouth,
I urge you-
Birth your mind again and again,
'til the sea sponges up
From tenacity alone.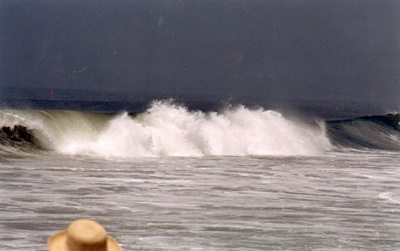 © Laurence S., Los Angeles, CA