Evil Physician Fades to Fictional Companion
July 19, 2014
When I walk into the suffocatingly claustrophobic room,
my logic ceases to exist.
When I am forced to sit upon the judgement stand I
know that I am trapped.
When the robot with the mendacious beam approaches
with the sword of inoculation, the distressed
pounding of my heart slows to a corpse-like stillness.
When I at last release the breath I had been holding in, I
realize that I am still intact, still whole.
How unorthodox my mind can become when tormented
by anxiety, astoundingly ironic that I experience
identical trauma at the hands of a paperback, yet I
love that devilish delight.
Vicariously living through a character is a world of
affliction entirely unique to that of the medical
dungeon.
I know the outcome of the character is inapplicable to
myself, for it is not my reality, hence my
love and adoration for it blossoms like a rose.
The knights, princes, bad-boys, rebels, and angelic
men of my beloved paperbacks are a
welcome presence in my mind, allowing their jaunts
and expeditions to carry me along
the emotionally twisted story lines.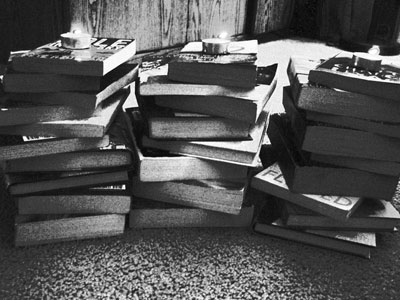 © Alexis R., Clarkdale, AZ