The Daily Voice
January 28, 2014
I am a writer of such beautiful elegance,
Who leaves behind only elegant remembrance,
I don't hide a past so bitter and harsh,
The times I knew, in my swampy marsh,
Where decrepitude had crushed my soul,
The dark hate that filled my hearts hole,
It consumed me in it's intense blaze,
It was my death, and I met his cold gaze,
Those eyes took my soul, froze my heart,
But I was already dead, violently ripped apart,
My soul-mate was killed, I died that day,
Yet the pain consumed till everything went away,
I was soulless and heartless, in icy death,
Lost to reason, forced to draw breath,
I was no more, just a walking shell,
Wandering through the horrors of hell.

"What happened to you, are you alright,"
I don't answer, because nothing matters,
It's a voice, but I hear only ragged tatters,
"Whats wrong, what's bothering you tonight,"
Again no answer, I sit still as stone,
Death is everywhere, penetrating bone,
"Why don't you answer, what's happened to you,"
I looked at her, then impassively looked away,
there is no change, tomorrow or today,
"Are you lost, is there anything left of you,"
No response, no reason for me too,
Nothing matters, a simple fact I knew,
"There is nothing left of you, is there,"
More silence, same thing as before,
No change not now, then or evermore,
"I see that now, feel the icy air,
There's nothing left of you, nothing at all,
You're dead, and you just can't care,
Your soul is gone, your heart an icy wall,"
I sit there, uncaring and just stare,
Nothing moves, not even one hair,
"I see that you are dead and long cold,
But in my heart, love for you I still hold,"
I hear her say it, it makes no difference,
Not in her tone, or the emotional deliverance,
"I love you," she said, "Even though it's trying,"
And then she left my side, crying and crying,
I felt nothing, I was since long done dying.

I don't know what day it is, don't care,
It's all the same, I'm never there,
Don't know where I've gone, can't remember,
Last I knew it was very early December,
that was forever ago and just today,
Time doesn't exist, it simply went away,
"Hello, can you hear me, I love you,"
Day after day, she comes back to me,
It doesn't matter, there's no one to free,
"One day you'll live again, like I do,
I'll mean as much to you as she did,"
Ice broke, and pain came through,
I screamed in furry, and hatred to,
"How dare you speak of her,
I'll kill you for what you incur,"
I destroyed everything in my rage,
holes in the walls, destruction to engage,
for hours I went on an angry ti-rage,
Till I had no strength left to stand,
And nothing left, not even my ice land,
For eternity I lay there, truly dead,
My life laid before me and then shed.

I heard a whisper, an angels softly spoken voice,
She picked me up, told me I had no choice,
She saw my hell, saw the ravages done to me,
And understood my hellistic agony,
My angel cried, she cried her tears for me,
They were tears of love, pure and untainted,
They told a tale, to beautiful to be painted,
The tears came into me, a second soul,
Another chance at life, to fulfill my role,
I looked into her eyes, and said, "I love you,"
The angel faded, and the daily voice said, "I love you too."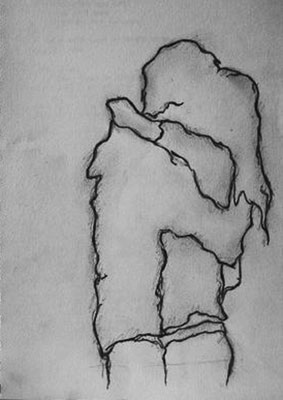 © Nicole B., Newcastle, WA