Fear: Part Two
January 1, 2014
You can smell the sulfur in the air
See the corpses of those who fell
You can feel the heat of the eternal flame
And you begin to wonder why you came

You can taste the death floating in the air
You try to fight it, but you are scared
You cry
You cannot run away from the fate that awaits you
To crush you down with all the hate felt towards you

The tribe has spoken, be gone you witch
Your attitude is disgusting; you're such a little leach
And you still have the nerve to say that you're right
You need to know that I'll never go without a fight

Negativity, give me nay
No one cares to what you have to say
What a little hater you can be
You'll be the one on your knees

"Whatever" is all you've got to say
That's cool; I'm the one that's thriving today
Fear me little lady, you are now powerless
I'm fine; you're the one that's heartless

And now I'm stronger, loved by all
You're the one who executed your fall
And it's just simply hilarious when I see you these days
I seem to forget why I even loved you that way

Your love was nothing but a drop of rain
My time with you was nothing but a stain
On the fabric, that's my life
Like the blood dripping from the knife
That you used to stab me in the back.
And I'm hurt,
Not because you were a fake
But because I lost a friend in the bitterness

I… I miss… you. What you used to mean to me
But I have moved on, even if just barely
And although sometimes I'm sad, I'm happier than before
You cannot feel the warmth if you cannot feel the cold
I wish I can tell you this now
Not because I want you back, but so we can be friends again
And be civil again for the sake of being a good person
Fear me, cause you are simply nothing
From my mind, you're slowly decaying.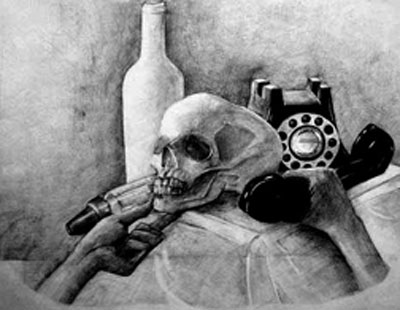 © Xiao H., Naperville, IL