Fallen
October 12, 2013
Hanging in wispy confines,
Shackled by my own design,
Watching what could have been my life
on rewind.

My castle, shiny and white,
out and in, flesh, marble, gold, silver, all alike,
frostbitten scars, bars of a snowy prison,
my sentence for life.

Wings, feathers, heavy and dripping away,
motionless by and by, night and day,
prop me up, weigh me down, a game of
pause and play.

Skin of silence, cut by a bittersweet melody,
the strum of thin spiderweb strings, clarity,
seeping in through my dusty window,
numbering my infinity.

Hiccups of notes, pattering like rain,
brush snow off my tower, loosen my chains,
lead me to him, eyes closed, fingers dancing,
unrestrained.

Caught in a childish tug-of-war,
perched between paradise and his door,
forbidden from Earth and forbidden
to soar.

I saw him tumble into my world, head held high,
breaking his downward spiral without a cry.
I didn't care, I didn't know, then
I didn't know why.

Why I started to imagine, to fantasize
why words on a page began to materialize
why 'i l y's ripped through me, and why I
was banished from the sky.

I slipped from my fortress atop everything,
breathed in smoke and learned to sing
bubbles of light and coughs of dark etched
on frayed heartstrings.

Drinking tears of moon, laughter of sunbeams,
feathers splattered with tar on broken seams,
drifting in flutters of innocence to kiss the Earth,
I begin my dream.

I learn to taste pumpkin, chocolate, and apple
beneath my bare toes in sharp crackles,
the rich cream and coffee of marble as I step
into his castle.

He blinks at crumpled flight with piercing eyes,
murmurs one word: "Angel", no goodbyes.
Shake my head, whisper the truth
like a sigh.

"Fallen." For you.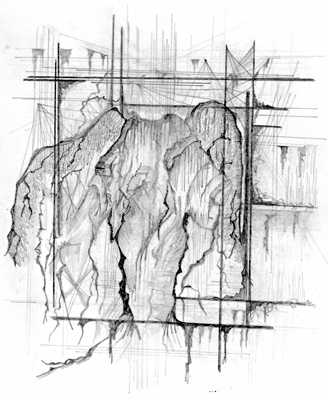 © Alexander G., Whitman, MA