Midnight in the City
September 12, 2013
There's so much pain and suffering in the world.
Who am I to ignore their cries?
The cries of desperation and yearning that go unheard
Into the foreign hours of the twilight zone
Become silenced

Hopelessness walks the streets
When most are sleeping
Restlessness is lurking and breathing life into the cold, dark air
The drunkards of the desolate bars
Passed out on park benches, broke and intoxicated

The clock strikes Twelve and time freezes
for a moment
Shadows of amorphous figures dance amiss the moonlight
Prancing through the city in their time
Racing down avenues and gliding between buildings

The lonely man taking a late night stroll becomes a wax-like statue in mid-stride,
His head hung low, hands in his pockets, and his shoulders hunched up around his
neck
The trees, bare of leaves save for a few that haven't fallen off yet in Winter's attempt to
come early
Stand tall in the pitch black, their silhouette merely outlined against the glow of Midnight

The clock strikes, motioning One o'Clock

All is silent

The suffering
The crying
The….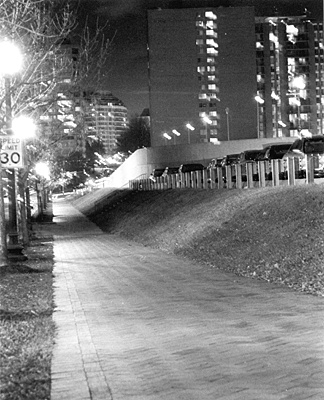 © Alicia S., Bethesda, MD