Far Enough Away
April 3, 2013
I spent that year skipping my classes and blasting music as I drove away.
Just away; anywhere that was far enough.
I tried to let the pain out by
screaming along to the music;
like somehow if I pushed
angry melodies out of my mouth
I would stop feeling these things.
But all those songs did
was give me a new pain
to scratch at my throat.

The pain was in my bones.
Clinging to my marrow;
seeping into me with an ache
that was cutting at my soul.

I felt alone.
Because the one girl that
accepted my imperfections
only did so because she
judged everyone.
But I couldn't possibly tell
her because she was naive
and I didn't want her to see
the real me.
Give her something
other than a mask to judge.

The only people that
ever saw what I was
were the strangers at gas stations
and the waiters at diners
who pretended not
to know that I was
running away.
And pretended not to
wonder what I was
running from.

I drove everyday while
my parents thought
I was in school and
my classmates thought
I was bad-a** for
not caring.

I have never understood
how people can look straight
at your flaws and then use them
as blocks to build you
an even higher pedestal.
I guess that's why boys don't bother
to keep secret the girls they have
taken advantage of.
Because when we finally
get a glance at who someone
really is, our brain flip-flops
our perception to something good,
something unreal.
I sometimes wish our brains
weren't so wonderful
and that we could walk around
seeing the world upside-down.

I would drive for miles
and ask for gas money
many times too-often
but my parents barely
noticed, and I barely ever
stayed home enough time
to let them ask me.

I would drive away.
I thought it was possible
to leave the pain behind
by driving off into the unknown.
But the only way to
get rid of something that
is in your very bones
is to leave your body behind.

So this year I go to school
and make my parents happy
by coming home to do
my homework and clean
the house because
last year only gave me
the illusion of freedom.
I am still trapped in
this body with my
aching heart and
poisonous bones.

It turns out that 'away'
is just as lonely as
right here.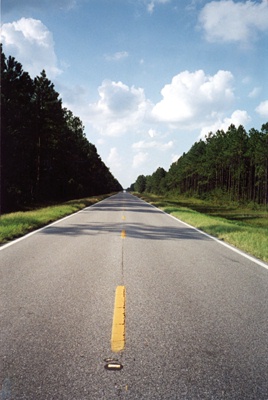 © Amanda M., Coventry, RI