Gummy Bears
February 25, 2013
It is a world trapped within a cold hard glass jar,
tempting the eyes to unscrew the blue cap sky
that is the only way out.
It is a never ending sea of the most appealing colors,
frozen with many different hopeful faces
waiting to be chosen.
Red cherry,
green lemon,
orange,
yellow lime,
transparent apple,
and pink strawberry
gummy bears
all facing in a different direction,
as they wait to be eaten.
Weak smiles on their faces
and their arms stretched out for a hug,
as they are released from their prison world
with a second of happiness before
they are popped into people's mouths with no second thoughts.
The jar world itself
sits,
on a large wooden desk
for the people to gaze upon as they enter the room,
with only a few actually being able to put their hands in
through the narrow entrance
and pick a brightly colored bear to eat.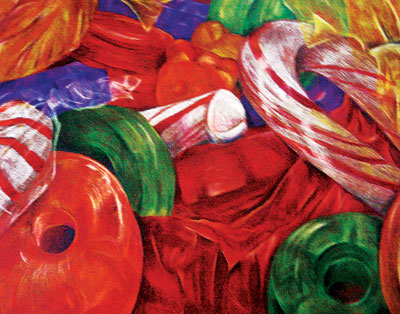 © Amy Z., Edmond, OK