Night
January 22, 2013
As I walk through the night.
Silently thinking.
Listening to the sounds of the leaves falling.
The drip of the rain on the leather of my jacket.
I can smell the smoke from the fires burning in the houses.
I can smell the decaying leaves.
The mud…
The rain on the blacktop roads.
I try to drown out the sounds of the cars.
Taking the roads less traveled.
I thought I heard something…
Someone following me…
Maybe it was an echo of my own footsteps…
I walk quietly.
Deep in thought.
My vision dims for I know my way home.
I do not bother paying attention to where my feet go for I know they won't betray me.
A quick movement to my right and I flinch.
Only to discover, 'twas only a branch.
One thing follows me…

I think of Peter Pan, him losing his shadow,
How much he had wanted I back.
I think, how this world would be-
Without shadows?
A question and I go deeper into thought.
Thoughts I would not like to share,
Or just cannot in general.
I close my mind and open my vision,
And I find myself walking up the steps of my porch.
I smile at Damian, with his small little nose and bushy brown tail.
Walk into my front door and I feel,
I am home, but,
I am not home.
Home was where I had just left,
A place where I would be warm even if I was cold,
A place where, I could smile over the stupidest thing,
Because I had someone who would be smiling with me,
That is home.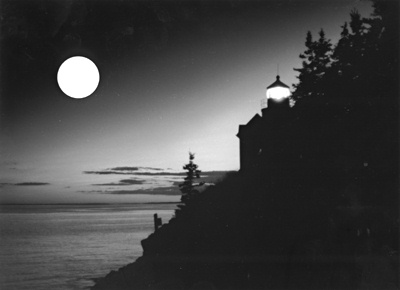 © Steve S., Marblehead, MA