I Watch Her
July 9, 2012
she writes in her notebook
red, like the color of the passion
the dining room light like the sun
shines down on her dark blonde hair
she stops, her ideas swirling in her head
watching TV as she puts it all together

I stay silent as she twirls her hair around her finger
our eyes meet, she speaks, but I just see her
the beauty of her eyes, dark brown
with a subtle hint of a blue ring circling her pupil
she twirls her hair again
a smile appears on her face
it glows, like a candle in a dark corner
and sheds light over anything in contact

I still don't speak
I just smile back, wishing I could kiss those lips
plump and pure, smooth and sexy
she picks up her pencil again,
she turns and speaks, not to me
but her voice is like a melody, harmonic
just like an angel

she's my angel, though she doesn't know
she doesn't have wings, or a halo
but her persona screams from above

she has a keyboard in front of her
dull, until she slides the button
a red light appears as she places her fingers
on the long white keys
she plays, stroking the notes
letting them come to know her
become one with her music
I listen intently, wanting to tell her
all my deepest secrets I can't

but, suddenly she stops
leaves the keyboard alone
and picks the pencil up again
she focused on her song
her words spilling onto the paper


as I sit and write, I wonder
wonder what a mind like that thinks
thinks of me
thinks of her
thinks of us
shall I speak to this angel?
or shall I leave the angel in her world
in her peace
I can sit here and wish I was a part of it
how I could make her my angel
my world
I'd let her in

she hums, a soft simple tune
words can't even describe how it sounds
my ears sing along with her
I can't help it; I have to look
she looks up and smiles shyly
she looks away blushing
I made the angel blush
I look again, but she's looking at her paper
but I know she feels my eyes
trying to see into her soul
into the heart I long to be a part of

she's smiling again, my god she's beautiful
she doesn't know of my eyes anymore
but I know she feels it
she plays again, her fingers kissed by the sun
darkened from the heat
I feel the heat
I feel the passion
is it just me?
Does she feel it too?
that smile she gave
the look we shared
all signs point to yes

I wonder what the words mean to her
that fall under the pencil point
right now I wish I was the paper
sharing her secret lyrics, feeling her passion
I'd keep it a secret if she told me
just for me and her
we could sing together
her words of passion
id learn them for her
id play them for her once I learned the notes

so serious and fierce, yet so tame and calm
she rereads the words
letting them sink into her mind
singing them to herself as she moves her head
she holds the pencil to her shoulder,
opposite to her heart, where I want to be

she approves and continues writing
as I do the same
explaining how I see her in my mind
how beautiful she is in my eyes
does she know she's that beautiful?
Shall I tell this angel of my mere mortal words?
Shall I share my secrets of the feelings I hold?

I possess many feelings
does she know a single one?
How does someone like me speak to her?
my words won't touch her
my words won't possess her
like the way my feelings possess me

she yawns as she rereads her lyrics
I wonder if she'd lay on my chest
id protect the angel while she'd sleep
running my fingers through her long blonde hair
caressing her soft, angelic face

she writes again, but then erases
it scatters the remains of her words
across the paper, hopelessly falling apart
and she writes again,
please don't stop angel, write your music
I wish she could hear me
but my words are blocked by my fears
would she reject my words of affection
or would she fall into me, to whisk her away

I know the angel's past
I would have kidnapped her
saved her from the horrors she experienced
showed her a world of love, protection, kindness
but mainly love
a love she'd never known before

I never thought an angel could dream
until my eyes fell on her
in her eyes, you see her dreams
I could make her dreams come true
so shall I speak to the angel
as she writes her words of passion?
I wouldn't want to disturb her
she's an angel of music that needs to complete her song
little does she know, I'm the harmony she needs

inside her is a wall, built from her past
not all angels start off good
but this angel, she was pure and innocent
who was laid a hand of cards she didn't deserve
her deck was shuffled, her life twisted
I rescued her, but she does not know
she woke up alone, I couldn't stay
her mind won't let her remember me
but I remember her

so I watch the angel as she sips
to quench her thirst as she writes
but the angel leaves, runs away
where'd you go angel?
she appears again, my heart lifts
she sips again, she speaks to me
her words are surrounding me
she laughs, the most beautiful sound

I smile to myself, she takes the book
she curls up in the chair and begins
her words flowing again
from her fingertips to pencil tip
I'm still wishing to know the words
familiarize myself with her feelings
maybe then we could share

the fan is on and like wind, her hair is blowing softly
she's focused on the TV again
as I'm focused on her face,
broken and yet so beautiful

I reach for her, but my arms shrivels back
a mortal can't touch an angel

she closes the book; she plays again
I stop typing, I look at her
she looks at me, I feel her
I love you my lips mouth
I love you too, the angel has spoken once more.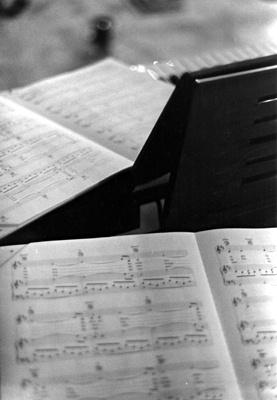 © Jessica M., Lansdale, PA