Will you Catch me if I Fall?
May 11, 2012
My fingers clasp the iron rungs attached to the giant cedar pole,
heart pounding so loud it echoes in my ears.
I let out a deep breath, which shakes my entire body.
I'm climbing higher, and higher
not thinking about where my foot will land,
or how exactly to grip the iron beside my palms.
Just climbing,
my mind left behind on the ground with the other witnesses.
All I see is the wooden pole and the rungs.
I should have looked out,
and seen the frosty glaciers and ancient cedars.
I possessed my body again as I reached the top,
and realized how high I was.
"Can I stop now?"
My belayer, on the ground, calls back,
"One more step."
I tentatively pull myself up onto the second floor of the structure,
the wood scratching against my jeans.
"Now?"
"I need you on the ropes before I can get you down."
I feel my heart pound as I struggle to pull myself further,
higher.
I'm standing, balancing on a thick wooden pole,
and wondering what would happen if I slipped.
Would I catch myself?
Or would a eighteen meter fall be in store?
I step out onto the ropes,
feeling them scratch my hands as I balance myself again.
"Now?"
I didn't wait for a reply.
Instead, I jumped, backwards.
For a few seconds, it was a free-fall,
the wind whistling between my fingers,
and then,
the rope goes taunt.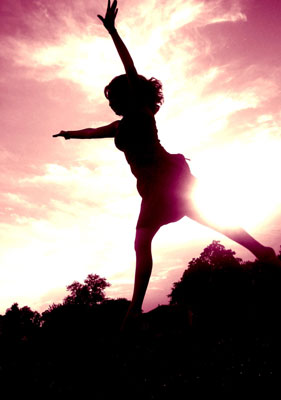 © Martha V., Morton Grove, IL