10:47...
April 24, 2012
I ask.. can I get a refill?
I'm not feeling right.
Its not my sight.
My heads light.
I just would like..

I'm having a very bad day.
Maybe I should stay away.
I can't walk the right way.
I know I shouldn't stay.
But I would just like..

The bus is coming soon.
There's something about the moon.
I'm seeing a lot of people, new.
Just to let you know, I'm thinking of you.
But I still would just like..

I hate this sadness, like vodka pouring over me. Its time to get rid of this madness, the last drop killing me. I feel like I should call you, and tell you whats wrong. But I might say things to you, that I've been feeling all along. It's all just a blur, the opposite of being alive. I beg to feel your touch but you not to feel hers. I won't lie about all the things I have done to you, but its the only way to survive. Sitting at the bar, staring at your disbelief. I know your not happy of what I have done to me. I'm sorry if I'm a jellyfish tonight, I'm not faking it, being in your arms... its just so right. I trip, I giggle, I act like a baby. I just hope this is not what you think you see. I'm better than this, I have a kind, womanly soul. Drinks do me wrong, drinks don't make me whole. But at least stay with me, drive me to your place. I would die for comfort, for a home to stay. Hand me your old clothes, not the bulky kind. But I'm so drunk, I won't even mind. Let me lay in your arms, so you can smell the whisky when I breath. Although I can hear the morning alarm, you should let me be. I'll wake up later, hangover on my head. I'll order in a cater, and eat whatever on the bed. You'll come in soon, that's good for me to know. Call me after noon, when you've visited your bro. Unlock the door, and find me asleep, but I would still like a refill.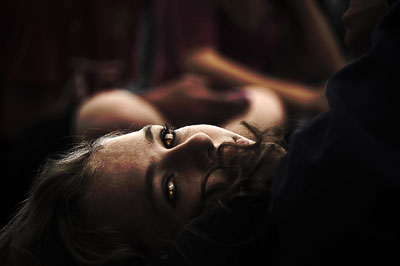 © Calvin C., Salt Lake City, UT