Deadly Witness
March 29, 2012
I'd seen this place before. In my dreams.
It was cold and the wet atmosphere clung to my skin.
I was in a room at the back of an abandoned child care center, which was still accompanied with a cheery feeling, as if a child would run in at any moment, smiling.
But, there was no child here and there never would be.
Cradling my head in my hands, I spoke "What am I doing here?"
A voice appeared next to my ear, whispering so lightly and gently, "Are you prepared to tell the truth, Mary?"
I nodded.
His voice was stronger this time, his words forced with anger.
"Who killed you?"
I gently lifted my head to face a table that displayed three photos.
There was two women and a man.
I pointed to the last photo.
In the photo, was a smiling human who had green eyes. Like me. brown whispy hair. Like me. A long face. Like me. The photo was a man. That man was my father.
"Why did he murder you?"
Silence.
"He said he perfered kill me himself rather then the world."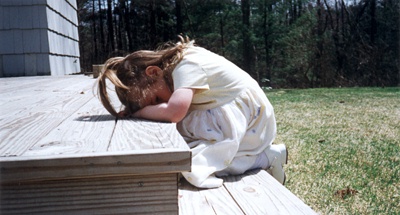 © Katherine B., Hingham, MA