Being Young
February 7, 2012
Playing outside, running around...
all seem to be so far away from me.
Mom was right---it does go by fast.

When the world was simple,
and nothing darkened my days.
Free and unburdened I was---

I thought my time unlimited,
that I would stay the same.
How wrong I was!

I wore a sparkly crown,
donning pretty dresses,
wishing on stars,
wielding a magic wand.

That girl never wore
paint to hide her face
or cared about
matching her clothes.

Endless games of Candy Land,
Pokemon battles on Gameboy,
my imaginary friends,
Barbie dolls,
dress up...

...now replaced with...

games of "What do you wanna be?",
studying desperately for A's,
having responsibilities,
working to save money,
doing chores...

But I do remember
the wind ruffling my clothes,
pushing me toward the sky---
my strong, little legs swinging

up high, with my eyes closed tight
almost at the height of my swing---
smiling, screaming excitedly.

Positioning my body,
seeing the ground below,
unsure about jumping---
Whispering to myself: 1, 2, 3...

How I yearn for those times---
where every cut, bruise or bite
could be healed with a hug and a kiss.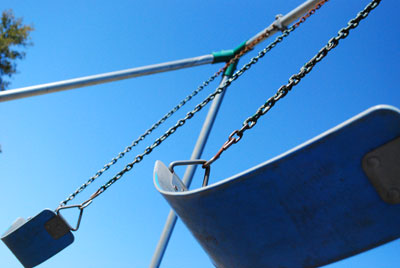 © Natalie R., Windermere, FL