"Zoe"
January 31, 2012
from the Greek origin meaning "life"

A collage of autumn colors tumbles downward from the treetops,
hunts me down; winter's arriving death.

Fast and far, I run unscathed by the jagged,
piercing teeth of red maples.

Stinging winds hit me dead on,
freezing my red-numb skin to boiling temperatures.

I am farther from winter's cold curse,
the rival of pursuing reds and sugars.

Vehement tornadoes assemble into a monstrous blur as they intermingle
like aroused lovers caught in the moment,

Until they slowly settle and sway down
onto the tranquil ground, a soft cloud...

Only to be swept away in the embrace of Mother's
Love.

Piercing arctic gases exchange through my filtering lungs,
as I wait not for long on the sidelines.

My enemies have come back to chase me
around the frozen field of yellow stalky stalks.

Sprinting as fast as I can through the golden blur,
a glimpse of something intrigues the corner of my eye.

A puppy.

Its anxious tail twitches back and forth,
stalking the buzzing prey zooming out of reach.

The orphan-hound persistently chases it around the field.
A juvenile display.

The furry machine escapes high up in a tree.
Hide and seek from the wild beast.

Rolling around in the rough grass
the fast-setting sun has nothing more to give, other than obscurity.

I, the final predator, sneak up behind the puppy to
Pounce on her. A lesson of true play.

She struggles fiercely in my loving grip.
There is nothing like a Mother's comfort and warmth.

Not much time withstands to squander 'till tomorrow.
She begs and pleas to dawdle once more with the deadly autumn leaves.

How do you decline such pure innocence?

She is my kin,
My life.
Zoe.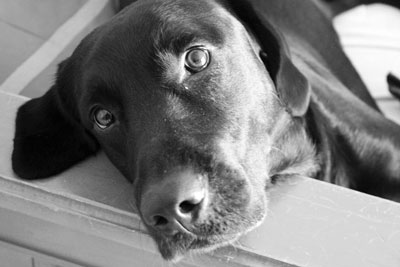 © Lindsay L., Snohomish, WA