Clarinet
November 4, 2011
I unhook the latches that keep my world protected
I raise the cover to revel what's inside.
As the wooden mouthpiece fits on the barrel
and all the other piece fall into place
I pull out my life saver,
my music,
that I go no where without.

My heart flutters with anticipation of the sound
of the rich lower register
and graceful upper register
of the clarinet.

My fingers automatically fall into place
over the silver metal rimmed keys
covering holes.
It's a second nature.

The wood has been cleaned
so dirt would fear to land on it
every cork has been greased
and everything has been oiled.
It's perfect.

My lips form the proper place
I've done this so many times
it's like holding a pencil
I blow a steady,
warm
stream of air
and note almost just leak out.

My clarinet flowingly plays everything.
It makes beautiful melodies
and to-be harmonies.
Nothing better than playing
my clarinet.

This is my life.
I couldn't imagine it any other way.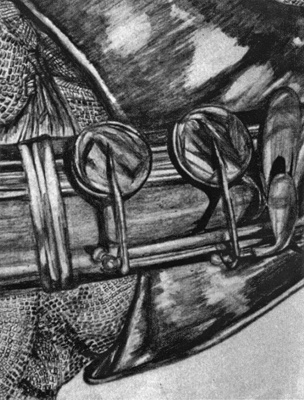 © Kelsey B., Cohasset, MA