Funerals
MAG
October 16, 2011
I. I was two and a half.
I remember black clothes and tall people,
family people, shoveling dirt down a
deep, deep hole, and my mother
standing in the back of the crowd,
holding my hand just-too-tight
and letting her tears for her mother
drip down
onto my bewildered face.

II. I saw Felicia
the Fish turn into a
magical orange spiral,
glinting in the whirlpool.
My five-year-old head craned
for a better look.

III. When our urban friends buried their beloved
guinea pig, Fifi, in a shallow grave in our
frozen backyard, I was seven
and studying.

IV. At ten,
I watched my mother
and aunt and uncle
symbolically rend pieces of black cloth
they had pinned to their clothes.
I wished that I had
something to rip, too.
That time I also sent a
shovel of dirt
down the deep, deep hole
to where my grandfather lay,
in the Jewish tradition, and, a year later,
placed a
cold, icy pebble
on his gravestone.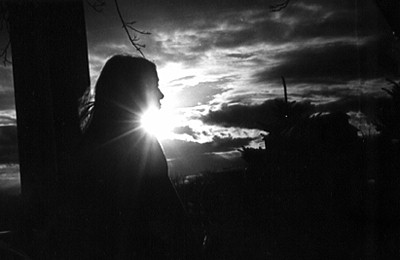 © Elizabeth G., Marblehead, MA