Preciously Rare
June 24, 2011
You wear your blue and black sweatshirt, it's getting way too cold outside,
You wrap your arm around your waist and walk aimlessly into the night.
You think about your troubles, about your problems and nothing seems alright.
Everyone is cruel and it's a hard life, no matter where you go.
The world encages you, and you feel lonely,
Even when you're not alone.
The misty air, cools your heart and you curse all that is done.
The starting of the year was perfect, too bad it didn't end the way it had begun.
You whisper lyrics of a Good Charlotte song, but it still doesn't feel alright,
And you look up at the moon and wish your troubles would fly away into the night.
Because it ain't ever easy, never perfect and the road seems way too long,
There is nothing to live for and you're scared that even after death, there'll be nowhere you'll belong.
You were daddy's favourite girl,
The big star of this small town and there was nothing you couldn't do.
From beating the snotty girl in the tennis match, to fixing that puzzle without a single clue.
The mud fights with your brother and the amazing Christmas gifts that are still locked away in a shoebox below your bed,
The letters and chits and presents are still there, then why is the old you dead?
'That kid will be big,' is what people would say, as you'd walk by,
You were content with yourself and all that you had, your life was on a high.
You talk to the moon, with silent tears that now stream down your face,
What went wrong and how everything ended, all of it without a trace.
Your dad's not home, mum's not around, and your brother is way too big now for mud fights,
The puzzle still lies unfinished and the snotty girl won again today, for the third time.
You're not the talk of the town anymore, but disappeared away as fast as you can say the word 'go,'
When you walk by people now, they whisper and talk, while you put up a smile pretence show.

So, as you walk away from the moon now, hurriedly wiping off the tears, knowing well that there'll be no one home to care,
I can do nothing but stand by, hoping to tell you somehow that no matter what we go through, the person that emerges after experiencing starless nights, is preciously rare.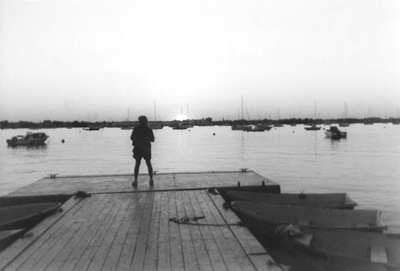 © Lindsey D., Marblehead, MA