the planet from which I've fallen
July 19, 2010
lost in an orbit
an atmosphere of rumors
whispers and confusion spinning like
stars
Earth is strange
adolescence dangerous
there is none of this where I belong.

they say you've always been here, this is your home, now be a good
little bunny, a nice happy flower and make
friends, succeed, don't get zits or
stutter, otherwise you'll be a
dark shivering failure.

but I remember oceans of peace,
orange and lavender fields a mile across of billowing dreams.
I remember a place of clean skies
and no murmurs just hard truths
and starbursts of substance so bright
they burned the doubt from you.
I was here, I know,
my handprints are on the sky.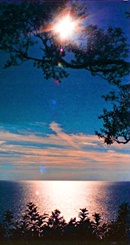 © Crystal B., Gresham, WI