The Girl By An Open Window
June 5, 2010
She sits quietly and takes in the sounds,
She is alone and no one's around.

The wind blows through her hair, as she stares ahead,
Secretly, hoping, I think, that the breeze will empty out what those people had said.

She can't feel her feet,
The tears are not going to roll down just yet, but they will roll down soon
And she feels the heat.

She sits there every day at the same time with a cup, as I can see the sunset in her eyes,
And I wonder, if she is present everyday to witness the sunrise.

Her face looks joyless and yet she looks at peace
And I wonder, whether she has ever felt at ease.

I wonder why her peaceful face looks torn,
Is it because, whoever left her house, has long gone?

I wonder if she has ever laughed and if she has, was it forced?
And if it was real, then why did she let it go, was that the cost?

She taps her finger lightly on the cup and puts a strand of hair behind her ears,
Yes, I can see them now.
I can see the tears.

For a moment she looks scared and her eyebrows come together,
Together they look like a very harmless and fragile feather.

She has a distant look in her eyes and yet she sits here,
I wonder, how far back she has gone, is it days, months or years?

She shudders then and comes back to the present,
She should have got something to cover herself with,
The weather is quite pleasant.

She looks above at the night sky and smiles slightly at the stars,
Do they remind her of something? Is that why she sits outside for hours?

She keeps her cup down on the floor,
There is something else to her,
There is much much more.

She looks down at her lap and her eyes have now dried,
Why is she hiding her face,
What is there to hide?

Has she seen me already and is that why she can't show?
Whatever it is that she's afraid of and what she's down below?

She looks up then and cups her fingers,
But the grief that had previously invaded her face, still lingers.

Darkness becomes darker and she doesn't give a care,
The night is now above us, no wonder she hasn't caught me stare.

It is finally time for me to move and I make sure to make some noise behind the bushes
So she knows that someone's crossing by and it doesn't seem odd.
I walk by her porch, giving her a smile and a nod.


She does the same and then quickly looks away,
Wondering why I did this?
Well, it isn't the first day.

Noticing her every day, has become like a game,
And yet as the world around her changes, she remains the same.


At times I think, I think that she knows,
That the routine rumbling behind the bushes is nothing but a hoax.


I am nothing but a passerby, maybe I think too much into what I see,
However, the girl I observe by the window every day,
Is also nothing but a mystery?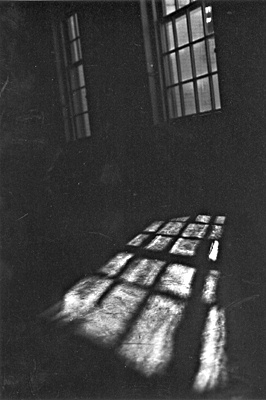 © Mary A., Fullerton, CA