Joseph Gani
March 26, 2010
He marched, surrounded by fellow prisoners
All pressed close together for warmth and solace,
His thin frame gratefully accepting the body heat around him.
He marched forward, a wild glint in his gray eyes
And a 2 by 4 in his hand.
Similar people around him with similar crazy looks
Carried similar boards, or bricks,
Or sharpened pieces of metal, they weren't picky.
Where were the Germans? They must have known
That the prisoners were rioting.
Or perhaps they were not aware.
Could they not see through the thick fog?
He looked up at the dark sky as it began to rain,
Turning the snow to slush beneath his feet.
And still he marched on,
Not caring about the mud building up on his boots.
Or perhaps he was not aware.
The sound of a rumbling truck came closer
As the up-risers pressed nearer to each other
All afraid, none willing to admit it.
He saw a German, like a phantom, materialize from the fog.
Ten more after him, then twenty.
Then both groups stopped.
The crowd of prisoners broke first, rushing the troops.
The shouts were followed by shots.
In the chaos, he fell to into the mud,
The bloody snow soaking into his brown hair.
The taste of mud mixing with the smell of gunpowder.
Perhaps he was not aware.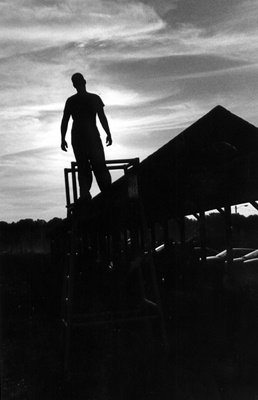 © Briana L., Marblehead, MA