I Know (I Love You)
March 11, 2010
My heart leaps.
My breathe catches in my chest.
My voice, in my throat.
There you are,
Quiet.
Beautiful.
You sit there,
Calm.
Content.
At least that is what is on the surface.
Beneath your self-reserved manner,
There lies a soul in anguish.
Trapped.
Hurt.
I know of your pain;
I feel it, too.
I know what it is that you go through every night.
I face some things that are almost the same.
You're not alone in your suffering.

You get up,
And walk over to me.
I swear that my heart is going to explode.
I look at my desk,
My cheeks starting to burn.
You say something that I can't quite hear.
I look up,
Up into beautiful eyes.
You repeat what you said:
"Hi. Need any help?"
I can't think.
Your voice resounds in my head;
The most beautiful, calm sound that I have ever heard.
I come to my senses.
"No, I'm fine."
You give me a small smile
And you walk away.
I want to speak,
But my heart is too cowardly.
So I just let you go,
Like so many other times before.

A week passes until I gather up the nerve to speak.
I catch you in the hall.
I whisper.
"What did you say?"
I take a breath.
"I love you."
Those three words came tumbling from my lips.
You stare at me.
I look at my feet, dumbfounded at what I had just done.
My ears are pounding with my own racing heartbeat;
I didn't hear what you said back:
"I love you, too."
I look up,
Shock is evident upon my face.
I couldn't believe it:
You loved me.
Someone truly loved me.
I walk away,
A smile on my face, amidst the burnt red of my cheeks.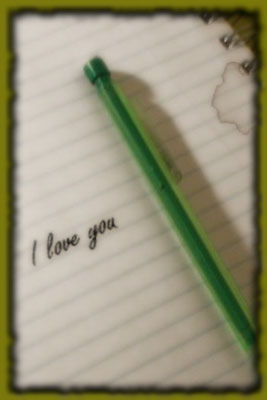 © Rebecca B., Marietta, GA