The 49th State
February 23, 2010
High mountian peaks that touch the hevans,
reaching up to hug the fluffy white clouds.
Dusted with flakes of snow and hold
great places of scilence and peace.
The eagle glides over head enjoying the view
and then comes down to a lower altitude.
Here the smell of pine and birch fills the air
and there is several signs of life
like the moose snacking on willow branches.
Along side her is her newborn calf,
and thats not the only sign of life.
Moss covers the pines and birds are singing,
the squirles are playing
and all is in motion.
The eagle then moves on to a place full of noise and animals.
He smells the salty air with just
a hint of the food hes looking for
Seagulls surround the fishing boats trying
to get some scraps of fatty salmon.
Bears also line the shore, helping
there cubs catch some lunch.
The eagle also sees the seals and whales
and the many signs of life.
He then swoops down to catch a fish
who now lost his life to feed another.
Just like the bears are doing
or what the moose is doing or the people
in this state I call home.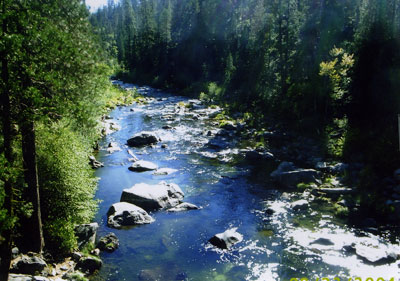 © Laycie C., Stockton, CA