Inside the In-Between
November 5, 2009
The sun screamed in my eyes.
Pain was inflicted upon them, while my pupils began to be
scorched,
my eyelids seared,
brows shrunken.
Although the agony,
I continued on,
towards the unknown ahead.
A brilliant light,
wildly askew in many places,
lay before me.
The feeling inside of me was certain.
Curious.
I had never seen such a place before,
a place with miles and miles of barren land,
untouched and lonely.
There were quiet voices here,
barely trying to be heard,
but still here.
It wasn't space, but yet, it was not Earth.
An area between life and nonexistence.
My body urged me forward,
wanting me to give up.
But,
what was ahead?
Happiness?
Death ?
Questions circled round,
and,
round inside of my head.
I could not linger,
anymore, for it was time,
to force myself,
to go Inside of the abnormal world.

I went Inside, and
closed my eyes.
Darkness plunged on me.
I opened my eyes,
to look up at the roof of a wooden,
pale white rectangular object.
Silence was finally accomplished.
I was at peace,
alone.
Dead.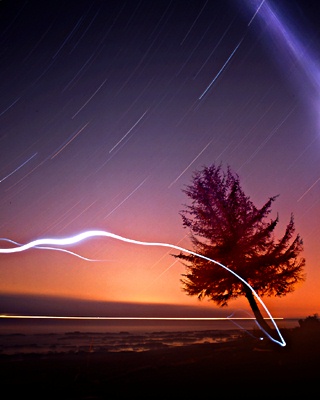 © Joey M., Spokane, WA