The Rainbow Outside My Window
October 3, 2009
Red is the warmth of a fireplace, the smell of cinnamon, the feel someone's hand in yours.

Orange is the scent of poppies, the taste of salt-water taffy, a warm wool scarf wrapped around your neck.

Yellow is sunshine falling on your face, the thirst for ice-cold lemonade on a midsummer's dusk, the feel of brand new socks.

Green is the feel of damp grass on your knees, what the grass is on YOUR side of the fence, the shade of my sweetheart's eyes.

Blue is the feeling you get as you dye Easter eggs on a serene April evening, the feeling you get as your kiss is slowly returned, the lining of a dream.

Purple is the taste of a good donut, the love for your other half, an eloquent moose as it leaps through the winter air.

Grey is the sound of rain hammering on a tin roof, the wash of your favorite blue jeans, the chills you get when someone runs their hand up and down your back.

Love is in every color of the rainbow. Even if you can't see it.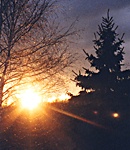 © Christy S., Germantown, NY