Barn of Generations
MAG
February 14, 2019
I am from depleted stalls in disarray,
halters, bridles, lead ropes hanging.
I am from dusty saddles, dirty harness stacked,
untouched water tanks, bailer twine disfigured and muddled.
I am from the Bobcat in the way,
to standing on a crippled bucket to reach.

I am from a back door leading to the stone building lot,
tying string to a hook to lock the door,
keeping the horses out.
I am from rusted, cracked, and stiff boards,
and vines hanging on the outside.
I am from cats scampering over hay bales,
bringing home leftovers labeled "cat feed."

I am from a side drop door,
bulky ropes on a pulley falling out.
I am from eight square bales flying
into the mow,
stacking quickly, preparing for the next eight.
I am from watching where I step,
holes in spots covered by loose hay.

I am from work fulfilled with Belgian
Draft horses,
teams in the stalls waiting to work.
I am from family willing to accomplish
the job,
Teamwork is how farmers finish the chore list.
I am from the barn on the corner lot,
the barn of generations.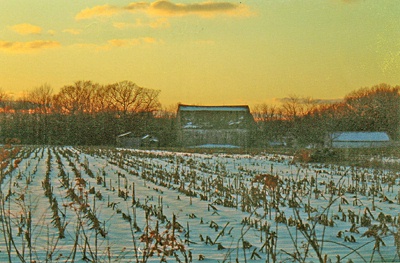 © Liz K., Rockford, MI