The Wise Little Hare
April 4, 2013
This little creature is the hare,
Hopping with extreme care,
With ears stuck up straight in the air.

He likes to dart to ad fro,
Trying to hide, but lo:
He sees the eyes of his foe.

He's off as fast as lighting,
The distance of his foe tightening,
His enemy at his heels biting.

The hare disappears among grass and rocks,
And up to the hole comes the fox,
And on the opening his gaze he locks.

But the terrified hare is somewhat wise,
And under the gaze of those wicked eyes,
A scheming plan he does devise.

He knows the ins and outs of his lair,
And the fox does not know, neither care,
So he sets of from this dooming snare.

Three hundred feet from the hole,
The hare emerges like a mole,
Leaving the fox still stiff as a pole.

Away hops the hare with a joyful mind,
Through the trees his way he'll wind,
Leaving his fox-foe miles behind.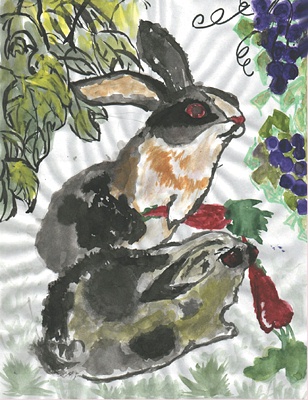 © Xin H., Elmont, NY