MY GUARDIAN ANGEL
December 22, 2009
Man - it is what you claim to be.
Yet, I think there's more to you.

Guided by your feelings.
Unafraid to express who you are.
Always there for me.
Reaching out to embrace you.
Determined to help.
Indescribable passion.
Angel is what I think you are.
Near and dear to my heart.

Amazing and beautiful.
New feelings you're experiencing.
Getting to know me more and more.
Eager, I am, to show you how I feel.
Love is shared in our hearts.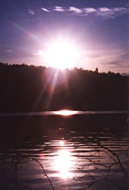 © Laurie T., Hopkinton, MA